Mac attack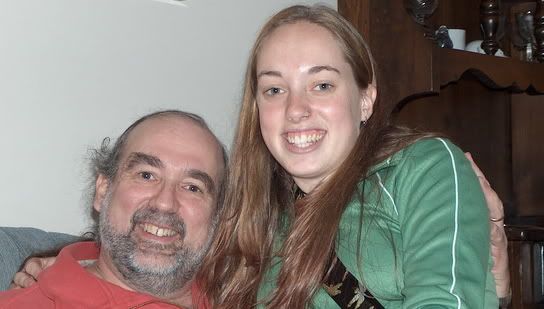 For the last few days, I've heard more about Macintosh computers than I've heard in many years. It's a resurrected or reborn meme. It all started Sunday, when my daughter mentioned that she had gotten a Powerbook. "Why didn't you tell me they were so much easier to use?" she asked chidingly. (Here's a picture of her minutes before — or was it after? — our brief discussion. Can you tell I've acquired a new digital camera? LOL!)
Then Tuesday, a colleague at work and I were discussing the relative merits of PCs and Macs, the only one we knew of favoring the former being cost. He mentioned in passing that OS X was nothing more than FreeBSD, which I had not known (I can't believe I'm admitting this publicly).


In another conversation that same day, this same colleague suggested that I might enjoying reading some of Paul Graham, of whom I don't remember knowing anything previously. That night he sent me a link to Graham's web site. The next morning I pointed my web browser there, and the first thing I read was his latest essay: Return of the Mac. It was quite an intriguing read. Why am I going to all this trouble to replace various versions of Windows with various versions of Linux on my PCs, when Apple has already put FreeBSD on the Mac? Good question!



All the best hackers I know are gradually switching to Macs. My friend Robert said his whole research group at MIT recently bought themselves Powerbooks. These guys are not the graphic designers and grandmas who were buying Macs at Apple's low point in the mid 1990s. They're about as hardcore OS hackers as you can get.



The reason, of course, is OS X. Powerbooks are beautifully designed and run FreeBSD. What more do you need to know? [link in original]



Then, the Mac exposure came late in the day, when I read Michael Geist's Internet Law News, which had two items about Macs. The first announced the halt of a virus writing competition for the Mac:
Plans to hold a $25,000 competition to write a virus designed to infect the Apple OS X have been scrapped after the company behind the scheme backed down over "legal problems" and complaints from Mac customers. Apple accessories company DVForge announced the competition after security company Symantec claimed OS X was likely to come under increasing attack as Apple's market share in the computer market grew [linked to the original article].
The second told of the Gartner Group warning about the Mac becoming a target for spyware and viruses:
Just a week after Symantec caused an uproar in the Mac community by warning that the OS X operating system was quickly becoming a target for hackers and viruses, Gartner has warned businesses reliant on the Mac to guard against "spyware infestations." Martin Reynolds, vice president of the research firm's Dataquest organization, said last week that although the number of Apple Computer systems used in businesses is relatively small, just one vulnerability exploit could cause trouble [again, linked to the original article].
I don't know what it all adds up to. Hell, I don't even know if I'm done hearing about Macs again for a while or if this is just a momentarily pause in a new blitz of information.
Justice (Civil Liberties, so-called Intellectual Property, Privacy & Secrecy); Politics & Government (International, National, State, Local); Humor (Irony & the Funny or Unusual); Science & Technology (Astronomy, Computers, the Internet, e-Voting, Crypto, Physics & Space); Communication (Books, Film, Media, Music & the English Language); Economics (Corporatism & Consumerism); and Items of Purely Personal Note (including Genealogy, Photography, Religion & Spirituality).