Franco Harris for U.S. Senate?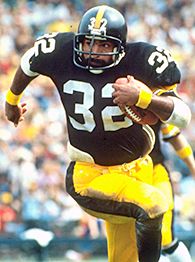 This speculation comes from today's fivethirtyeight.com (in the last paragraph of the post), and yes, this is the same African-American-Italian who was a key player in the Pittsburgh Steelers' "Immaculate Reception" in the 1972 NFL play-offs!

Justice (Civil Liberties, so-called Intellectual Property, Privacy & Secrecy); Politics & Government (International, National, State, Local); Humor (Irony & the Funny or Unusual); Science & Technology (Astronomy, Computers, the Internet, e-Voting, Crypto, Physics & Space); Communication (Books, Film, Media, Music & the English Language); Economics (Corporatism & Consumerism); and Items of Purely Personal Note (including Genealogy, Photography, Religion & Spirituality).